ABOUT US
2 Digital was established in 1999, by Mike O'Keefe. Mike has had over 35 years experience in the IT industry and 20 years of which was in the Photographic industry. Mikes knowledge and experience in sales and marketing makes an ideal combination with web site design.
Mike was a tutor for web site design at Huntingdon Regional College for 3 years as part of a graphic art degree module and is a Sfedi accredited business adviser, through the Chamber. He is the Chairperson of Business Connections an independent not for profit local networking group. Mike is also the official custodian of the Queens official image library and has been working with the Royal Family for the past 30 years plus.
The business is a partnership, Mike and his wife Sue. Sue retrained in the development of web sites, graphic and illustration software and desktop publishing and has been involved in the business for the last 6 years. Sue was one of the runners up in Bedfordshire Businesswomen of the year 2006.
2 Digitals clients base are small to medium size businesses. Their usp is they always feel the need to understand the clients business. This helps when listening to the clients expectations and needs. All their web sites are bespoke, sites are designed from scratch or from graphic representations and proposals from clients.
Amongst the services 2 Digital are finding the business requests are changing, web site optimisation and appraisals are becoming one of their leading roles. Along with customer consultations and working parties on how to get the most out of your web site with great success, there is an art to the ever changing search engine optimisation processes. Of course domain name registration is another service as well as web site and email hosting. 2 Digital is also a partner with Zen Broadband and can therefore provide - Broadband connection as a service. Spam filtering is another growing area of business.
Please do not hesitate to contact 2 Digital for any of your internet / web site queries.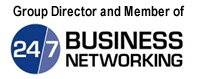 Breakfast Networking and social media training group
bi weekly meetings
Stratton House, Biggleswade
Bedfordshire
Our Services include:
Web Site Design
Search Engine Optimisation
Web Site Appraisals
Domain Name Registration
Web & e-mail Hosting
Broadband provision & installation
Junk Email (SPAM) filtering
New Service Ethical Email Marketing